Why is karaoke a great idea for your office Christmas party?
Thank you!
Firstly, thank you for considering Karaoke for your office party. It's a very bold decision but one you'll probably be very happy you made. There's often a bit of hesitation when the word "karaoke" comes up. People picture some drunk fools making a horrible job of an ABBA song. They are correct. You and all your guests will probably butcher every song you sing but that's about 95% of the fun of karaoke.
Singing bring out a very fun side of people. Renting a karaoke machine for your office party is definitely something you should try once. If it doesn't work, no hard feelings, if it does then you'll already know what you'll be doing at next years Christmas party. We have had many, many return customers, some having made it their annual tradition!
What you get
Everything you need. The audio equipment, the karaoke songs, party lights, delivery and installation. Yes, you could have a karaoke night for much cheaper using equipment you may already have lying around and YouTube. By booking with us you get the peace of mind that everything will work, all you'll need to do is give the tablets (how you pick the songs) to your guests and let them take care of the rest.
Having a professional set up will help your guests get into it very quickly and before you know it's already pick-up time (thank God! You'll be dying to get home). We often have rentals where we have to be the bad guys and end a party because the guests are still going strong way later than planned (as in the house lights are on and the cleaning staff is waiting to get to work…)
Experience
We've been renting out karaoke machines for over 10 years now. That's all we do and we try to do is as best as we can. Starting off in Montreal in 2013 our first expansion was to Ottawa, Quebec and Toronto in 2018. We added outlets in southern Ontario in early 2021 (Hamilton, Kitchener, London and Niagara Falls), expanded to the west coast in the fall of 2021 offering our karaoke rental services in Calgary, Edmonton and Vancouver and finally added Halifax and Winnipeg in 2022. We can now proudly saw we offer our karaoke rental services from coast to coast!
Book soon
We don't want to rush you in making your decision to rent a karaoke machine. We know a lot of you have to propose this to committees that may not meet every day. Just be aware that we will often sell out during the Christmas season, especially on Thursdays and Fridays in December. For that reason we recommend booking as soon as you can to guarantee availability, as early as September is ideal
Need a quote?
If you need to go through the quote/invoice/receipt sequence with your billing department just send us an email with the address and date of your party. Once we receive that we'll send you a quote with our different packages and final prices with delivery and taxes
Book your Karaoke online
Reserve your karaoke system quickly and easily on our website! To confirm availability just pick your date on the booking form and you'll see if the system is available for rent or not. We have many systems so you should be ok, however we always recommend booking at least two weeks ahead (and as early as you can if you're booking for your Christmas party!)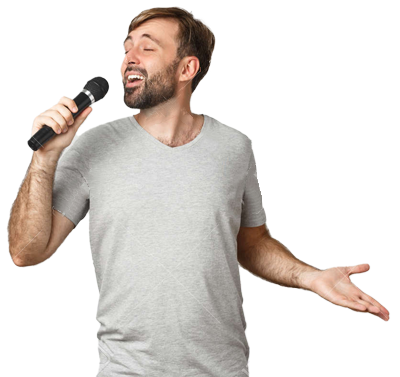 I know how important the success of your Christmas party is to you and your colleagues. It's that one time of year were everyone can let loose and see their colleagues as friends instead of co-workers. It's a crazy time of year for my team and myself, driving across town to install one machine, then heading right back were we came from to pick another one up. We really enjoy showing up early to pick ups and seeing the guests still having a great time!

Founder of Karaoke Calgary
Verify System Availability
Let us know when you plan on partying and get:
$5 off coupon
You'll receive a coupon by email to save $5 off your next rental
More Information
Answers to most of the questions you have
24 more hours to think about it
If a system is available we'll put one aside for you for another 24 hours