Karaoke Rental for an Event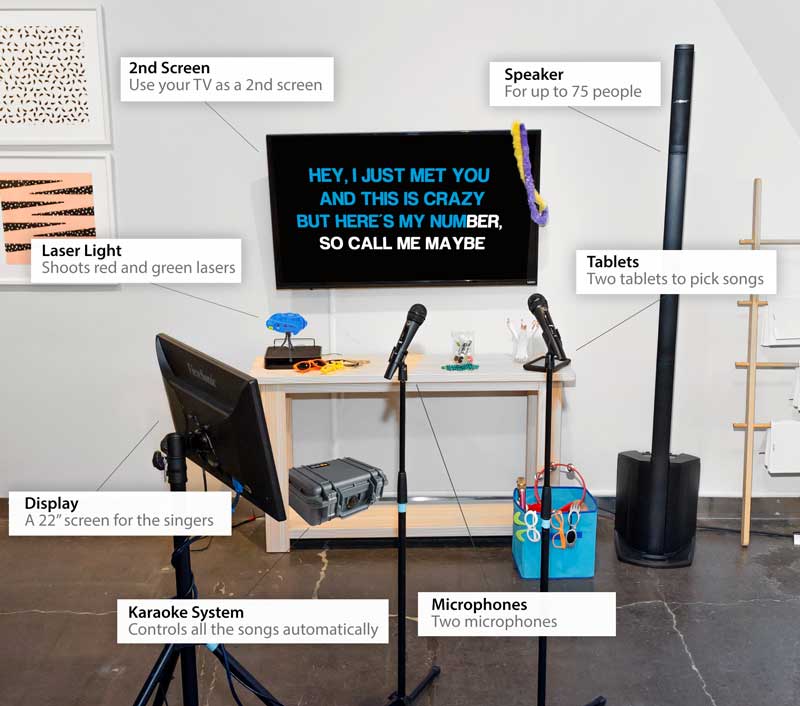 Ideal karaoke machine for your corporate party or parties in halls or restaurants
Our easy to use tablet-based karaoke system makes it extremely easy for you and your guests to have a great party
Use our speakers with your phone, iPod or MP3 player to listen to your own music when you aren't karaoke'ing.
All our systems include a HDMI cable so you can use your television or projector as a second display
How Long?
Party as much as you want! We'll deliver the system a few hours before guests start arriving and pick it up the same night or the next day
Tablets
Two tablets are included (three with the Superstar system). The tablets are used to pick songs and build a playlist, it is ridiculously easy to use: you can search, sort, filter, see Top Songs by year or genre, etc!
Display
A 22″ monitor for the singers to read the lyrics. Our Superstar system also includes a projector with 120″ screen
Microphones
Two professional wired microphones, the Superstar system comes with wireless microphones
Speakers
Our high-quality speaker system is powerful enough for a party of up to 75 guests
Party Light
Two party lights to give your event a fun atmosphere
Upgrades
You can upgrade your mics from wired to wireless if you book our Event Basic System
Installation
Installation and delivery is included in our free delivery zone, enter your postal code
on our booking page
to see your delivery fee

Why Karaoke at Your Corporate Party?
Organizing a party that everyone will enjoy is not easy, especially with office parties. After all they don't come along very often and you're trying to please a group of people who will have very varied tastes.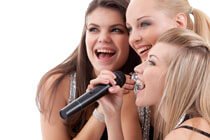 Now you'll never find the perfect activity, but you will come very close with a karaoke rental.
Why? Well, first of all our systems double as a sound system, so right there you can already spend half the night doing karaoke and the other half listening to music. Second of all, karaoke is a great way to get people out of their seats and dancing. Karaoke is also just a lot of fun and is a great team-building exercise.
Finally, our service makes your role as the party planner much easier as we have free delivery and installation, great equipment and a stress-free booking system.
WHAT OUR CUSTOMERS ARE SAYING
"Karaoke Rental Montreal was amazing! The tablet system was simple and quick to use and made for seamless transitions between songs. The sound quality was great. There was a huge and varied song selection that satisfied even the most eclectic of my guests' tastes. All this, and they were so pleasant and accommodating even in spite of our last minute booking! Thanks for helping to make my birthday a huge success!!! We had so much fun."

AUDREY F.

Who celebrated her birthday with karaoke
"Thank YOU so very much Sean for your excellent service and quick delivery. You exceeded my expectations and the sound system for the Karaoke and speeches was just perfect just as you had recommended. Above all, you are a true professional with the utmost integrity and it was great to have you service our needs. Thank You Karaoke Rental Toronto!"

ELIZABETH DAWSON

Who celebrated her mother's birthday with Karaoke
"Thank you for everything!!! We had fun like little kids at our Christmas party. I was told that it was the organization's best Christmas party ever! In short, you would have thought a show at the Bell Center."

MARIE-JOSÉE BEAUREGARD

Who had a Karaoke Christmas party
"We had the best time ever!!! The service , the price – everything was perfect. I will definitely use you guys again and refer people. Perfect for office party. Merci a vous – vraiment !"

ROSE FRANCOIS

Who had a karaoke office party
Verify System Availability
Let us know when you plan on partying and get:
$5 off coupon
You'll receive a coupon by email to save $5 off your next rental
More Information
Answers to most of the questions you have
24 more hours to think about it
If a system is available we'll put one aside for you for another 24 hours