Written by Sean on Tuesday, September 20, 2022
3 Reasons why renting a karaoke machine for your birthday is exactly what your life needs right now
So you've decided to celebrate your birthday and are looking for options. If you love singing, want to have a memorable time with your friends and family, and want to stay pretty relaxed about all the organizing, look no further than renting a karaoke machine.Here are three reasons we think you should highly consider renting a
karaoke machine for your birthday party
.
1. Karaoke with your friends is incredibly fun.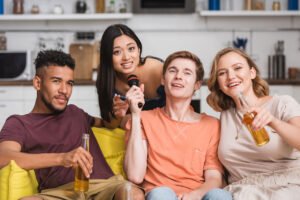 We've delivered, installed and picked up thousands of karaoke machines at this point. We love picking it up the next day, because people are almost always deeply content, tired and have lost their voice from singing so much. It is satisfying to know that their birthday was celebrated in a way they'll remember for years to come.
Don't just take it from us, though. Here are some testimonials from past clients who celebrated their birthday by renting a karaoke machine for their birthday:
"Thanks for helping to make my birthday a huge success!! We had so much fun." – Audrey F.
"We rented a karaoke machine for our daughter's birthday. We have no idea how big of a hit it was going to be. Everyone had a blast." – CYNTHIA RINELLA KARACHI
"My wife surprised me by throwing a 30th birthday party for me and the karaoke was incredible! It was a hit all night with my family and friends. Amazing and lots of music genres to choose from and the sound quality of the speakers was top notch. Very good service setting up as well." DAVID NGUYEN
"The karaoke made the party for our daughter's 16th birthday. They danced and sang all night" – KELLY MARTIN
Check out more
karaoke testimonials
2. Karaoke is easy and practical
With our systems, you choose your songs on a tablet, they queue and they play. Your job is to simply sing into the (high quality) microphone and feel like a superstar. It's as simple as that. You're not juggling CDs and binders. You're not inviting a Karaoke Jockey into your home. You're just choosing what you want to sing and you sing.
We take care of delivering the system to you, installing it for you and then we come to pick it up the next day (when you've lost your voice from singing and laughing so much). That way, you can focus on the other aspects of planning the birthday party – who to invite, where to have it and what to serve.
3. It's tailored to you and you get to call the shots
Different people have different karaoke styles
Are you a…
"(You Make Me Feel Like) A Natural Woman" by Aretha Franklin" kinda karaoke singer?
You love to feel like a queen. You've got the pipes, you love having all eyes on you and love to make everyone's spine tingle with great music coupled with your great voice. It's your birthday, you can sing if you want to.
If this is you – rent a venue (or your favorite bar), invite all your friends and get up on stage. You're the star tonight.
"(You Gotta) Fight For Your Right (to Party)" by Beastie Boys kinda karaoke singer?
You can't really sing, but you LOVE belting out tunes, getting in the vibe, not taking anything too seriously, all preferably with friends by your side who are doing the exact same thing.
If this is you – get some of your funnest friends gathered in your basement, choose loads of songs where you share that mic and sing together all freaking night. It's your birthday – you can party if you want to.
"Stand by Me" by Ben E. King kinda karaoke singer?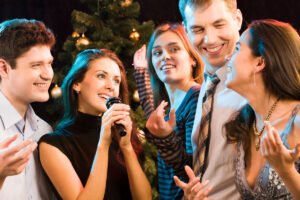 You love your songs with a side of heart-felt tears. Whether you can really sing or not, doesn't matter, but you love the way music moves your emotions and allows you to bond with those you love.
If this is you – get your favorite people together, curl up on the couch and take turns choosing meaningful songs, bonding and singing together all night. It's your birthday – you can cry if you want to.
The point is? You've got options.
Renting a machine with us and having a karaoke birthday allows you to celebrate at home, at an intimate venue or a larger one. You get to create the vibe YOU want.
Click here for our karaoke rental options if you're karaokeing at home or if you'll have a bigger event for your big day